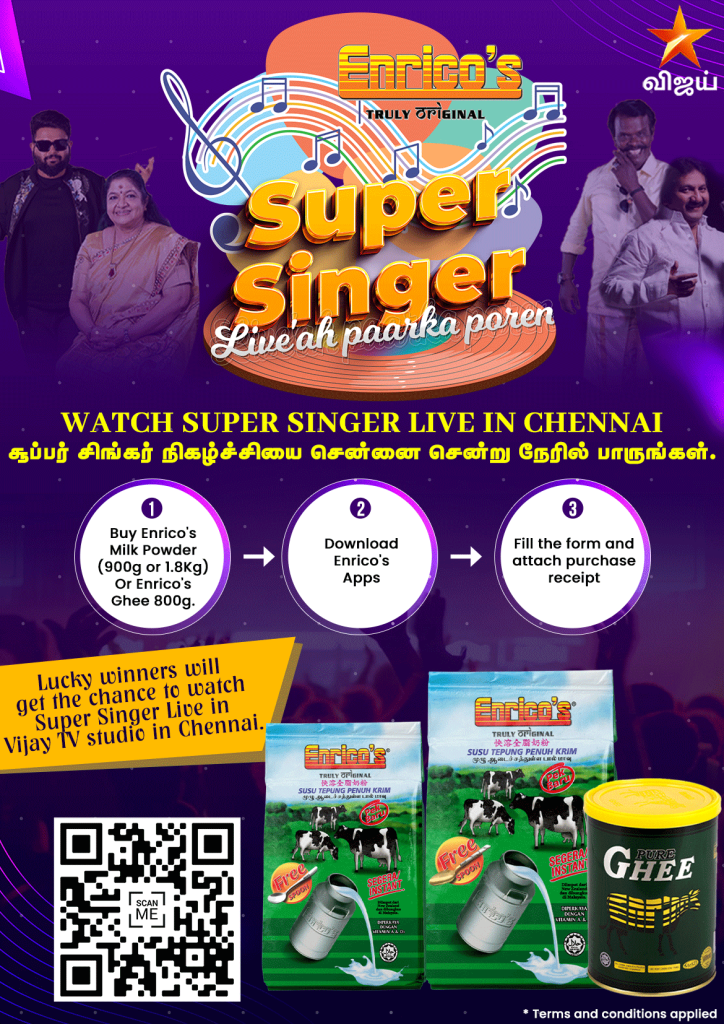 Download Enrico's App now and register for Super Singer Contest:


Read our Terms & Conditions


Frequently Asked Questions (FAQs) for the Super Singer Live Contest!
Q: What is Super Singer?
A: Is a reality TV singing competition in the Tamil language that is sponsored by Enrico's Malaysia. The show is televised in India on Vijay TV, and worldwide through partner broadcasting networks like ASTRO.
Q: Is Enrico's playing any other role in this SSJ live show in Chennai, India?
A: Enrico's is only a title sponsor in Malaysian feed; therefore, we do not intervene in Super Singer live show in Chennai, India.
Q: Venue?
A: Chennai, India
Q: How can I enter the contest?
A: Detailed instructions on how to enter the contest will be provided on our website and social media platforms. Please ensure you follow all steps to successfully submit your entry.
Q: When does the contest start and end?
A: The contest starts on 22 September 2023 and ends on 30th October 2023. All entries must be received within this period.
Q: What are the contest rules?
A: The contest rules can be found on our website. We encourage all entrants to read these carefully before entering the contest.
Q: Is it we must purchase only Enrico's FCMP 900g, 1.8kg or Ghee 800g to participate?
A: Yes, and must produce purchase receipt
Q: All shops receipt are acceptable?
A: Yes, as long the product purchase date falls within the campaign duration which is from 22 September 2023 till 30th October 2023
Q: How will the winner be selected?
A: The winner will be selected through a random draw from all eligible entries. The draw will be conducted by an independent judging organization.
Q: How will the winner be notified?
A: The winner will be notified via email or phone call using the contact details provided during entry.
Q: When you will announce the winner?
A: Announcement on 6th or 7th November 2023
Q: How you will contact the winner after the announcement?
A: Via Telephone / email / WhatsApp or SMS but if we unable to contact in any above-mentioned method then we will cancel the prize.
Q: Any special guest will be attending the live show?
A: No. Super Singer judges only
Q: Who can I contact if I have more questions?
A: For any further queries, please reach out to our Contest Support Team at 012 503 8005.
Q: When is the travel date to Chennai, India?
A: 3rd or 4th week of November based on availability
Q: What does the all-inclusive trip include?
A: The prize includes round-trip flights from Malaysia to Chennai, hotel accommodation for 2 nights in Chennai, and local transportation to the event location and airport.
Q: Will Enrico's sponsor (travel & accommodation in India)
A: Yes
Q: What type of accommodation will be provided?
A: Winners will stay at a 3 or 4-star hotel in Chennai with breakfast included. Further details will be provided to the winners.
Q: Are there any costs that the prize does not cover?
A: The prize covers most costs, but personal expenses, such as souvenirs, additional meals outside of what's provided, and optional tour activities, are not included.
Q: Who is eligible to enter the contest?
A: The contest is open to all Malaysia citizens and PR holders aged 18 years and above at the time of entry.
Q: Is it only for Malaysian or for all?
A: For all Malaysian citizens and PR holders
Q: Will I need a visa to travel to India?
A: Yes, Malaysian citizens require a visa to travel to India.
Q: Can I bring along a partner to Chennai / Live Show?
A: Each winner may bring a partner along.
Q: How to identify Enrico's PIC at India?
A: Winners' details will be shared to Enrico's rep from India and they will do the necessary arrangement once you reach Chennai Airport
Q: Will Enrico's sponsor same event in future?
A: Hopefully YES!

Remember to carefully read the contest rules and eligibility criteria before participating. Good luck!
Read our Terms & Conditions