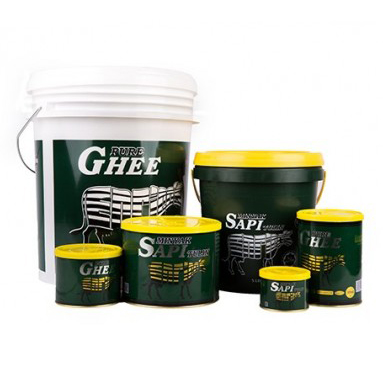 Enrico's Ghee is made from fresh cow's milk and it is imported from the New Zealand Dairy Board. There are no additives or flavoring added to the ghee hence the aroma that emanates is natural aroma. Besides this, Enrico's ghee is manufactured under a special condition where butter fat is processed to produce crystalline ghee. It is this stringent process that maintains the texture and natural flavor of the Enrico's Pure Ghee.
Enrico's Ghee is the No. 1 selling ghee in this region. Enrico's Ghee is available at all hypermarkets, shopping centers, cash 'n' carry outlets and retail shops.
What is Ghee?
Ghee is a type of clarified butter important in Indian cuisine and tradition. Ghee is made by simmering unsalted butter in a large pot, until its water has been boiled off and its protein has settled at the bottom of the pot. This method of preparation gives it a somewhat nutty aroma that Weste clarified butter does not have. The clarified butter is then spooned off carefully without disturbing the milk solids at the bottom of the pan.
Unlike butter, ghee can be stored for extended periods without refrigeration, provided it is kept in an airtight container to prevent oxidation. This extended lifespan is due to the destruction of microbes and enzymes during the process of simmering and the removal of water. Besides this, ghee can be heated up thus making it excellent and suitable for deep frying. In fact until refined oil came to popular usage, ghee was the mainstay of all fried dishes.
Ghee is frequently used for libations in Vedic ritual and even finds a hymn dedicated to ghee. Ghee is also used in the Hindu religious ceremony of Homams, Aarti and used in marriages, funerals and for bathing idols during worship.
PRODUCT SIZES

Size 1:    125gm x 60 Cans
Size 2:    400gm x 24 Cans
Size 3:    800gm x 12 Cans
Size 4:    1.6Kg x 6 Cans
Size 5:    5L / 4.55KG x 1 Pail
Size 6:    18L / 16.38KG x 1 Pail
Pure Ghee | Ghee | Ghee Product | Enrico's Pure Ghee