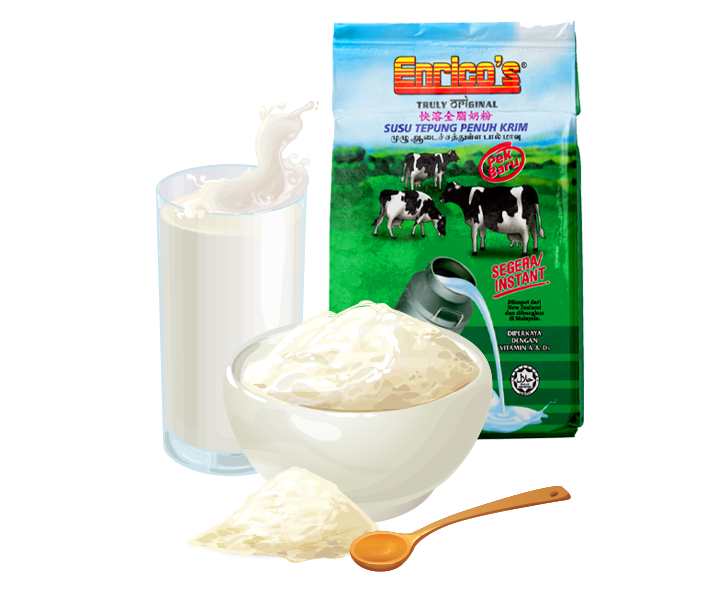 ENRICO'S FULL CREAM MILK POWDER
Enrico's Full Cream Milk Powder has a rich and creamy taste and it is imported from New Zealand and packed in Malaysia. It mixes easily in hot or cold water and can be used for making hot and cold drinks, yogurt (taiyre), 'paalgova', 'gulab jamoon', sweets, milkshakes or just adding to breakfast cereals.
Enrico's Full Cream Milk Powder is the Top 5 selling Full Cream Milk Powder in this region. Enrico's Full Cream Milk Powder is available at all hypermarkets, shopping centers, cash 'n' carry outlets and retail shops.
Nutritional Benefits
A serving (1 cup or 250 ml) of 28%-fat milk contains 285 mg of calcium; which represents 22% to 29% of the daily recommended intake (DRI) of calcium for an adult (depending on the age), 8 grams of protein, and a number of other nutrients available either naturally or through fortification. These nutrients include:
Vitamins D and K – essential for bone health
Iodine – a mineral essential for thyroid function
Vitamin B12 and Riboflavin – necessary for cardiovascular health and energy production
Biotin and Pantothenic Acid -important for energy production
Vitamin A – critical for immune function
Potassium and Magnesium – for cardiovascular health
Selenium – cancer-preventive trace mineral
Thiamine – B-vitamin important for cognitive function, especially memory
Conjugated Linoleic Acid – beneficial fatty acid that inhibits several types of cancer in mice, has been shown to be able to kill human skin cancer, colorectal cancer and breast cancer cells in vitro studies, and may help lower cholesterol and prevent atherosclerosis.
PRODUCT SIZES
Size 1: 300gm x 24 Packets

Size 2: 550gm x 12 Packets

Size 3: 900g x 12 Packets

Size 4: 1.8Kg x 6 Packets